ThisPageDoesNotCntainIconPay

What is the best way for students to carry money abroad
What is the best way for students to carry money abroad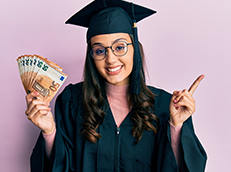 If you are planning to go abroad in pursuit of education, then the one question you should definitely consider is this: 'How do I carry money abroad?' Or another way of putting it would be: 'What is the best way I can carry money abroad?'
            There are several ways a student can carry money abroad. Here is a quick look at the methods:
Travellers' Cheques

This is an old method – tried, tested and found to be useful. Travellers' Cheques are available in major currencies, and are said to be a secure method conducting transactions. They cannot be used by anyone else in case of theft or loss. And experts say that they offer better exchange rates compared to cash. Further, TCs do not have an expiry date. But there are downsides: they can be encashed only at specific, authorised dealers. That number is limited. Also, he slightest signature mismatch can cause the cheque to be voided.
Foreign Currency Demand Drafts (FCDD)

These demand drafts cost around Rs. 300 to Rs. 500, and can be used to make big transactions such as payment of college and accommodation fees. The amount gets deposited directly in the beneficiary's account, saving up on intermediary bank charges. However, it takes almost two weeks to credit the money via FCDD, so this can be a problem when the payment needs to be made on an urgent basis. Consequently, universities and hostels have been recommending that students use a different mode of payment. Further, damage to the instrument will lead to a long and cumbersome refund process.
Wire Transfer

Wire transfers are a fast and efficient way of transferring funds to make payments for college tuition and accommodation. The entire process takes 24 to 48 hours. But a downside with this method is that it incurs commission charges from both, the sender and as well as the receiver banks.
Forex Card for students

This is it! The definitive answer to the question on how students can carry money abroad. Forex Cards are foreign exchange based cards which you can load using your home currency, and then the card will allow you to make transactions in the local currency of the country you are in. Of course, you have to choose which currency you will require, when the card is issued. A Forex Card for students is the same, but with extra benefits and privileges for students. You can make any payments through this method – college tuition, accommodation, food, shopping, books, travel etc. Some Forex Cards, like the HDFC Bank ISIC Student ForexPlus Card, allow you to avail discounts on pretty much all your expenses, with global assistance in case of any emergency.

Also, this can function as a valid student ID since it is a forex card with ISIC identity feature, specifically designed for students. You can lock in the exchange rate before travelling abroad; the applicable exchange rate is usually the rate it was on the day the card was issued. This is considered to the safest and most convenient way for students to carry money abroad.

Read more on why you should carry a ForexPlus Card when you study abroad.

Now that you are aware of the best way for students to carry money abroad, don't wait to apply for a HDFC Bank ISIC ForexPlus Card now. Click here to start now!
* Terms & conditions apply. ForexPlus Card approvals are at sole discretion of HDFC Bank Ltd