What are the benefits of Forex card?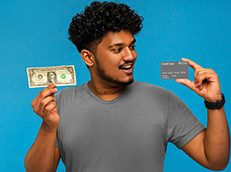 Today, Forex Cards are one of the most reliable and affordable options to carry money when travelling abroad. But these travel cards offer a lot more than just a way to pay.
Here are some of the key Forex Card benefits:
Purchase a card as early as 60 days before your trip or just a day before travel. Your bank can activate a card within a few hours after receiving the funds and post successful verification.
One of the important Forex Card benefits is that they protect you from fluctuations in foreign currency prices, as rates are locked when the currency is loaded in the card
Carry multiple currencies in a single card like the HDFC Bank Multicurrency ForexPlus Card, 22 currency wallets are available.
Make online purchases and transactions on international websites.
Get easy access to your transaction details and balance in the Forex Card through PhoneBanking, Prepaid Card NetBanking and PhoneBanking.
Reload your active forex card any number of times easily through PhoneBanking, Prepaid NetBanking or visit the branch.
HDFC Bank also offers emergency cash delivery service, in case you lose your card so that you are not left stranded.
Your forex card comes with complimentary insurance against theft, loss of card and misuse. HDFC Bank also provide insurance cover in case of loss of baggage, loss of personal documents and accidental death.
Track your transactions and spends through Prepaid NetBanking and SMS
Some cards like the HDFC Bank  Regalia ForexPlus Card can be used across the globe with zero cross-currency charges.
Many of the cards are now contactless, which means you can just tap and pay. This is a safer way to pay because the card never needs to leave your hand.
Banks like HDFC Bank offer 24x7 concierge services. These services help in referring you to hotels, car rentals and medical service providers, as well as assist you if you lose your passport, luggage, etc.
Travel in style with HDFC Bank Forex cards that offer complimentary lounge access to airports in India and abroad
Get a free international SIM card and with some hours of talk time
If you have a problem with your card, get 24x7 assistance globally by contacting PhoneBanking.
These are just some of the benefits of a Forex Card. To know more, visit the HDFC Bank ForexPlus Card pages on our website.
You can also read more on the different ForexPlus Card available and its features and benefits.
Looking to apply for a ForexPlus Card from HDFC Bank? Click here to get started!
* Terms & conditions apply. ForexPlus Card approvals are at sole discretion of HDFC Bank Ltd