What is an ISIC Card?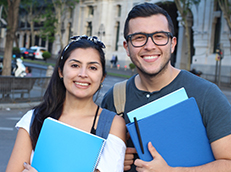 Studying in a new country is an exciting experience for most students. It's a great opportunity to discover new places and cultures, make new friends and acquire new skills. But one of the biggest challenges for students studying abroad is paying for their day-to-day expenses. 

The HDFC Bank ISIC Student ForexPlus Card is the perfect solution. It's not only an internationally recognized and accepted identity card, endorsed by UNESCO; it also doubles up as a Forex Card for students that you can use to pay for your expenses in local currency.

Every year, more than 5 million students use the ISIC Card to overcome their cash woes while studying in a foreign country. The HDFC Bank ISIC Student ForexPlus Card is your #BFF abroad, providing you with special discounts and exclusive benefits across 41,000 partners in over 130 countries.

What are the benefits of an ISIC Card?
Here's a list of the top 10 ISIC student card benefits:
Easy to use: The ISIC card is like any other Prepaid Forex Card. You load it with the amount of foreign currency you need (in USD, GBP or Euro) and you can use it when you are abroad to withdraw cash from ATM or pay for your expenses.
Protection against forex fluctuation: Foreign currency in cash may lose some of its value if forex rates fall. But once you load your ISIC Card, that amount is protected against any forex volatility as the exchange rates are locked-in.
Instant reloads: With an ISIC Card, you don't have to depend on wire transfers from home. Your family can instantly reload the card online via HDFC Bank Prepaid NetBanking, over PhoneBanking or by visiting a branch.
Save money: Enjoy special discounts and offers on books, food, shopping, accommodation, leisure activities and travel with over 41,000 partners in 130 countries and save money.
Universal identity: The ISIC Card is accepted globally as a student identity card. You can use the card to access services and facilities for students around the world.
Wide acceptance: The student Forex Card is accepted at all outlets that accept MasterCard.
Safe transactions:  The HDFC Bank ISIC Student ForexPlus Card uses an embedded chip to ensure your transactions are secure.
Complimentary insurance: Get insurance against misuse of stolen or lost card up to Rs. 5,00,000, air accident cover of Rs. 25,00,000 and cover for the loss of baggage and personal along with Passport reconstruction insurance up to Rs.50,000
Easy tracking: Track your card account easily online – check your transactions and balance, change your IPIN etc. 
Free international SIM: Get a free international SIM card with preloaded with Rs 200 worth of talk time.
Who can apply for ISIC Forex Card? 
If you are a full-time student at a school, college or university, you can apply for a student Forex Card either online or by visiting your nearest HDFC Bank branch. You will have to pay a nominal issuance fee of Rs 300 and submit the required documents. 

What are the documents required for an ISIC card?
You must submit the following documents to get a student forex card:
   Completed ISIC ForexPlus Application Form
   Form A2
   Appointment Letter / Admission Letter / University Identity Card
   Scanned copy passport size photograph with white background
   A photocopy of your passport
   Copy of Visa or Ticket (additional document for a non-HDFC Bank customer)
The ISIC card will be activated within four hours of funds being loaded.
You can read more on how to apply for a Forex Card here.
Want to know more about applying for the HDFC Bank ISIC Student ForexPlus Card? Click here to apply now!