ThisPageDoesNotCntainIconPay

Use your Credit Card for everything Here how to ensure you are always safe
Use your Credit Card for everything? Here's how to ensure you are always safe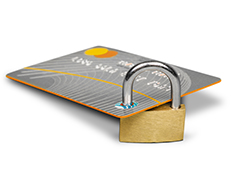 As Credit Card spending slowly returns to pre-pandemic levels, it is important that you take steps to protect yourself from fraud. The number of phishing cases - where fraudsters impersonate customer service specialists and surreptitiously obtain financial details – are growing by the day. Many have been lured into entering their Credit Card information on look-alike sites online. This data is either sold to third-parties by miscreants or used for a series of high value unauthorised transactions. Skimming is another common form of fraud that one must guard against.
Here are seven tips that will help you shop safely with your Credit Card.
Remember 'S' is for secure: Always look for 'https' in the browser's address bar when you enter the desired URL. It means the website uses encryption to keep information secure. It does not mean you're 100% safe, but it at least assures you that you have entered your personal information on a certified secure website.And that's reassuring.
Beware of public Wi-Fi: Generally, networks in public places are not secure enough. Entering your Credit Card details on those may prove risky – it is quite possible that hackers may glean your personal information. Even public Wi-Fi is not so secure that you can rely on it for your Credit Card passwords. As far as possible, when you shop online do so from your own computer using a secure internet connection. If you are at a cyber-cafe, always use a virtual keyboard that allows you to enter passwords or PIN information by clicking rather than typing them in.
Guard against viruses: When your computer is affected by a virus, it can send you to a fake website with random popups. Clicking on these can endanger the data on your computer. Do your online transactions only when your computer is secured behind a firewall and has the latest version of a trusted antivirus software running in the background.
Set transaction limits: The RBI recommends that cardholders add transaction limits on different types of transactions such as online or ATM withdrawals to protect themselves for fraud. As part of these measures, new Credit Cards will now need to be manually activated via customer service for international transactions. Such transactions will be disabled by default.
Always compare receipts: To ensure that you have not been overcharged or wrongly charged, save your receipts. After you have completed your transaction, take a printout of the receipt and compare it with your billing statement. Alternatively, you can also scan the receipts and store them securely via one of the many expense tracking apps available online.
Keep your Credit Card PIN safe: Your Credit Card's personal identification number should always remain a secret. Memorise it and never write it down anywhere. However safe you think it is, there's always a chance that it may fall into the wrong hands. It is recommended to change your PIN whenever you detect any suspicious activity.
Remember to sign your card:Signing on the back of your Credit Card adds an extra layer of security. The merchant is expected to match your Credit Card signature with the sales receipt and with an ID proof to confirm its validity. The merchant may refuse to swipe your card if it does not have your signature on it.
Get a card protection plan: Even after you have taken all possible precautions to keep your card secure, make sure you have a backup plan ready. Invest in a good card protection plan. You can opt for HDFC Bank OneAssist, which provides you with an easy way to secure your wallet, along with providing a fraud cover of Rs 2.5 lakh.
The ease of shopping online can be tempting. But it also comes with an element of risk. While using your card, be aware of your surroundings and keep an eye open for anything that may seem suspicious. Remember to follow these basic precautions, and all should be well.
Also, if you are new to Internet banking and are concerned about the safety aspects, here is something that you should read.
If you are looking to apply for a HDFC Bank Credit Card, click here.​​​​​​​

*Terms and conditions apply. Credit Card approvals at the sole discretion of HDFC Bank limited. Credit Card approvals is subject to documentation and verification as per Banks requirement.