What Are Credit Card Features And Benefits in India?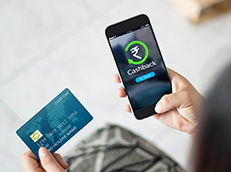 Almost everyone today has a bit of rectangular plastic in their wallets or purses. That's the Credit Card and the Debit Card. A few years ago, hardly anyone had a Credit Card. Today, nobody thinks twice about paying for their purchases with a card. It's not uncommon for people to have several cards. It's not hard to figure out why. The Credit Card benefits are too great to ignore. Plus with more banks offering them: the process has become more straightforward, and there are a vast variety of options to suit every lifestyle and spending tendency.

So, what is the benefit of having a Credit Card?

Well, they are numerous. Whether it's booking a car ride or a movie ticket, purchasing expensive gadgets or a cool fashion accessory, shopping online or at a neighbourhood store, recharging your mobile or settling the utility bill, a Credit Card is one of the most convenient methods of making payments.

Here's list of key Credit Card benefits:​​​​​​​

Convenience: Why carry wads of cash around when you can pay with a simple swipe of your card? A Credit Card is one of the simplest ways to pay for anything – no more counting out change or writing cheques, just present the plastic! You can even link your card to your digital wallet, which allows you to scan and pay without even having to carry your card in your wallet. 

Recurring payments: While Credit Cards are great for one-time payments, you can also set it up to automatically make recurring payments such as your phone, electricity or gas bills. No more will there be a chance of forgetting to pay bills on time and facing penalties or disconnection.

Recharges and tickets: One of the biggest Credit Card benefits over cash is the ability to pay for a wider range of online services. For example, you can't buy flight tickets or recharge your mobile phone with cash on delivery. You can easily pay for them through a Credit Card.

Interest-free credit: A Credit Card comes with a grace period between purchase and payment (could be up to 50 days) during which the bank does not charge any interest. This is a perfect example of buy now and pay later. 

Rewards: Every time you pay using an HDFC Bank Credit Card, you earn Rewards. You can redeem these rewards for exciting gifts and vouchers such as free shopping trips or even free flight tickets. 

CashBacks and discounts: From fuel surcharge waivers to great online shopping deals, your HDFC Bank Credit Card opens the doors to a host of CashBacks offers and Reward Points, especially with selected offline and online merchants. 

Travel in style: The HDFC Bank Credit Card makes your travel a more pleasant experience with free access to exclusive airport lounges, priority check-in and boarding, extra luggage allowance, etc. 

Expense tracker: Credit Card statements are a great way to track your expenses every month since it provides you with an itemised account of your expenditure.

Safer: One of the benefits of Credit Card in India is that it's much safer than carrying large amounts of cash around. You don't have to worry about dropping the money somewhere or having your pocket picked. If you lose the card, you can get a replacement after you notify your bank.

Credit score: Most people are not aware of this, but a Credit Card benefits your credit score. Organisations like CIBIL give credit scores to individuals depending on how prompt they have been in their payments. Using a Credit Card and repaying on time provides a boost to your credit score. A good credit score means you will be able to obtain Loans and Credit Cards quickly in the future. It's one of the Credit Card benefits cash or cheques cannot offer!

​​​​​​​Now that you know the Credit Card benefits, are you ready to swipe? Want to know more about Credit Cards? Click here to get started!

Looking to apply for HDFC Bank Credit Card? Click here to know more!

* Terms & conditions apply. Credit Card approvals are at the sole discretion of HDFC Bank Ltd. The information provided in this article is generic in nature and for informational purposes only. It is not a substitute for specific advice in your own circumstances.