What is a Forex Card for student?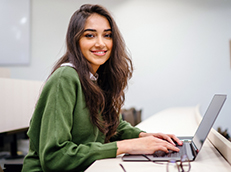 When travelling abroad, it is important to carry a certain amount of the local currency. It used to be a headache to constantly calculate the rate of exchange and figure out how much of your own currency you need to give up in the name of foreign exchange. Plus, carrying around wads of cash was always an issue. It still is.
All that changed with the advent of forex cards. Banks now offer foreign exchange or forex cards that are loaded with currency units for the specific country or region you are travelling to. You don't have to worry about the fluctuations in exchange rates. And you can also walk around without any fear of all your cash being stolen. This is a great idea for people going abroad on vacation. But what about people who have to stay there for a duration longer than a week or a month in the pursuit of education?
For students, banks offer a special forex card that comes loaded with features specifically for their benefit.
What is a forex card for students?
A forex card for students is a foreign exchange or forex card which allows students to pay for their expenses without worrying about currency or cash issues. If you are a student considering studying abroad, then this card will be perfect for you.
You can focus on your studies, and manage your expenses without any worries about having enough cash for necessities such as food, shelter and travelling. In fact, travelling is also cheaper for students thanks to this forex card.
Are there any notable student forex cards?
International Student Identity Card or ISIC is an internationally recognised identity card for students that enables students to obtain discounts on shopping, travel and housing among other things. The ISIC Association, in order to help improve intercultural understanding and increase education opportunities, issues this ID card to students.
HDFC Bank ISIC Student ForexPlus card functions not just as an ISIC identity card for students, but also a forex card that caters primarily to students. The card is available in three major currencies. You can avail yourself of various shopping and travel related discounts through this card.
Further, HDFC Bank ISIC Student ForexPlus Card is not restricted to just students. If you are travelling abroad, you can use this card for managing your expenses in a foreign currency. However, it must be noted that the ISIC identity aspect of this card and subsequent benefits are available only for students.
What are the features of a forex card?
There are various features of a forex card which make it an important asset for you when studying abroad:
Forex: You can get the card in one of 3 currencies: USD, GBP, Euro
Cash: You can obtain cash at an ATM through your card in the local currency.
Safety: You do not have to worry about loss or damage, which is likely with travellers' cheques or cash.
Global Recognition: The ISIC ForexPlus Card is globally recognised.
Instant Reloading: The card can be instantly reloaded with money through Prepaid NetBanking.
Global Assistance: In case the card is lost or is not working properly, you can get emergency cash service by contacting the bank's helpline.
The importance of easy forex for students cannot be stressed enough, and thankfully, there are more than enough organisations that recognise this fact. Student forex services are now all over the world. You can now go abroad and pursue not just higher studies, but also a valuable life experience.
Applying for a HDFC Bank ISIC Student ForexPlus Card is as easy as clicking here. Get your ForexPlus Card and enjoy great benefits when you study abroad now!