What All Can You Buy With Gift Cards?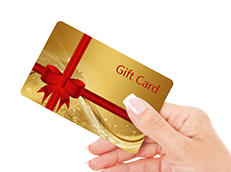 Gift Cards are a way of giving someone the freedom to splurge on almost anything! Be it for the fashion- conscious teenage niece, the best friend who is a foodie, your office colleague who likes to travel or the aunt who loves to cook – Gift Cards are refined and thoughtful than plain cash – and yet give the freedom of choice to the recipient.
Types of Gift Cards
Prepaid Gift Cards are cards that are preloaded with a set amount of money, which is presented to an individual as a gift. It can then be used to make any purchase for which payment is made electronically.
There are two types of Gift Cards –
Issued by banks or credit card companies: This is more widely accepted as it is associated with a network like Visa, Mastercard, American Express, etc. It can be used at any online shopping portal or physical store that accepts cards from such networks.
Issued by businesses/establishments: Such Gift Cards have the primary purpose of boosting sales, getting new customers and retaining old ones. They can be used only at outlets of the business' brands.
Where can Gift Cards be used?
If a Prepaid Gift Card has been purchased from a particular business, then its use will be limited to the business' brands/goods at all or selected locations. The Gift Card may also be of use while shopping online for the particular brands at their official websites. However, sometimes such Gift Cards are not allowed for use during sales & discounts. Nevertheless, they do not have an expiry date.
Since Gift Cards work well for businesses, many businesses – clothing, footwear, cosmetics, books, restaurants, etc. offer them. In fact, Gift Cards from e-commerce companies are slowly gaining popularity.
If a prepaid Gift Card is purchased from a bank, then the options to use it are almost limitless. Use it at any place that accepts cards from the network on the Gift Card. It can be used to shop for clothes, groceries, medicines, or go for a movie, dine out, buy travel tickets, etc. Once again, it can easily be used for online shopping as well. It also makes a good anniversary gift or even for weddings.
However, prepaid Gift Cards issued by banks will have an expiry date. Also, they can be used even during sales & discounts of any brand.
Looking to apply for a e-GiftPlus Card? Click here now!

* Terms & conditions apply. Gift Card approvals are at sole discretion of HDFC Bank Ltd