ThisPageDoesNotCntainIconPay

Money saving tips that would make a trip to Russia more affordable
Money- saving tips that would make a trip to Russia more affordable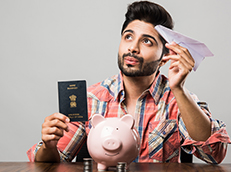 Taking an international vacation is quite exciting – new places to see, new foods to try and new people to meet. But when it's an international trip for a sporting event – and one of the biggest events in the world – it can be quite an overwhelming experience. There's no doubt that if you're heading to Russia this summer for football's biggest event, it will be an expensive affair. So, here are some tips to be money-smart during your Russian travels. 

1. Know your currency 

The Rouble is the official currency of Russia, and one Rouble is equivalent to approximately Rs 1.08. However, exchange rates fluctuate daily. You can also consider carrying a universal currency (such as USD or Euro) as it can be easily changed and is widely accepted. However, avoid changing currency at airports because it tends to be more expensive or through unauthorised providers even if they are offering low rates.

2. Use a Forex Card 

Financial safety is a particularly important consideration when it comes to international travel, which is why having a Forex Card can be a huge benefit. Your existing credit or debit card may have transaction or conversion fees, which will add to the cost of your trip. On the other hand, having a dedicated Forex Card, such as HDFC Bank's Multicurrency ForexPlus Card makes it easier to manage multiple currencies, while allowing you to use it as a regular debit card.

More importantly, currency rate fluctuations do not have any impact on the money in your Forex Card. To make managing money even easier, you can top up your forex card online at any time, change your ATM PIN number and even get emergency (if you need it) cash delivery while on holiday. Learn more about Forex Cards and how they can benefit you here.

3. Use public transport 

Public transport is often cheaper in most countries as compared to private transportation. In Moscow, for example, public transport is cheap and comfortable, though this may not be so in all Russian cities. You certainly don't need to rent a car; walking is always an ideal way to experience a city. Besides, it helps on the cost and fitness fronts.

The Troyka card works very much like the 'pay as you go' Oyster card does in London. A major difference is that with Troyka, each ride – whether it's on the metro, bus, or tram – will cost around 35 roubles (Rs 38) irrespective of the distance travelled. These cards can be topped up at any time. For the more mobile-savvy, the Yandex Metro and Yandex Transport apps will be of great help when planning your routes, particularly in Moscow.

An initiative by the Russian government can offer two significant benefits if your schedule is flexible. If travelling to more than one city, free night trains provide a chance to save on travel and boarding costs. The trains are comfortable and were most recently tried and tested during the 2017 Confederations Cup.

4. Eat smart 
It's easy to get carried away with food and drink, especially when you have a whole new cuisine to explore. Even though Moscow and St Petersburg are no more expensive than other European cities, eating at a café or a street vendor is the better financial choice. In Moscow, some of the best places to grab a cheap meal include:
1 .Grabli
2. Mu-Mu
3. BB Burgers
4 .Kruzhka (for the cheapest beer in Moscow)
5 .Elki-Palki
6 .Dodo Pizza
It also helps to carry water and snacks purchased from a supermarket. This makes more sense than paying for overpriced food and drink at match venues.
5. Shop smart

You'll be sorely tempted to buy official souvenirs to bring back home as memories of your travels. Unless you have budgeted for these (or have a lot of money at your disposal), avoid impulse purchases that could put a financial dent in your carefully planned experience. If you must shop for cultural souvenirs, do so at local flea markets, where you can haggle over prices. 

The local government often organises free entertainment – concerts, cultural programmes, screenings of matches – to entertain visitors and locals alike. If you have nothing to do, head to any of these events in and around your area. Not only is it economical entertainment, but it offers the chance to make friends as well.
We all have dreams and certain #LifeGoals that we want to achieve, and there's no time like the present to start making it happen. With a little smart planning and an HDFC Bank Multicurrency ForexPlus Card, you can find an easier and cheaper way to manage foreign currency while travelling abroad. So #GoForGoals this season and start ticking off all your bucket-list travel dreams. You can always apply for the HDFC Bank Multicurrency ForexPlus Card here