What is a Loan on Credit Card?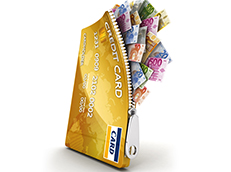 Flight or movie tickets, restaurant bills or groceries, mobile recharge or utilities, you can pay for a wide range of services and products using a credit card. But did you know that you can now get an instant Loan against your Credit Card?
What is a Loan on Credit Card? Loans on Credit Cards are pre-approved loans extended to you based on your Credit Card usage, repayment and history.
Who can get a Loan on Credit Card?
Since a Loan on Credit Card are pre-approved and extended without any documentation or collateral, a bank typically looks at your credit history and repayment record. Not everyone who has a Credit Card can get a loan.
To check if you are eligible for a loan against your Credit Card with HDFC Bank, you can log on to NetBanking and check under the Credit Card tab. You could also call PhoneBanking and check.
How much Loan on Credit Card can you get?
You can get a Loan within your Credit Card spending limit (Insta Loan) or even beyond it (Insta Jumbo Loan) depending on your eligibility.
How quickly can you get a Loan on Credit Card?
Very quickly. Since the loan is pre-approved, disbursement takes just minutes. Pre – approved customers can get the loan in 1 second. You can get the funds from an HDFC Bank Loan on Credit Card in your account instantly. You can also opt to receive the funds via a Demand Draft.
How do you repay the loan?
You must repay the loan in easy monthly instalments (EMI) over the tenure you have chosen. You can choose a tenure up to 36 months. The EMIs will be added to your credit card statement and will have to be paid on the due date along with payment for any other purchases you may have made. Your credit limit will be reduced to the extent of your EMI amount.
What can I use the funds for?
You can use the funds from a Loan on Credit Card as you see fit – you can spend it on a consumer durable or for travel or for a medical emergency or any other need you may have.
To apply for a loan on credit card, click here.
Want to read more on Loan on Credit Card? Click here now.
* Terms & conditions apply. Loan on Credit Card disbursal at sole discretion of HDFC Bank Ltd.
| | | |
| --- | --- | --- |
| Sr. No. | Loan on Credit Card Disbursals are Basis Below Conditions | |
| 1 |  If you have an existing  HDFC credit card, you can directly avail loan on your credit card. | |
| 2 | If you don't have HDFC Bank Credit Card, you must first apply for a new credit card with us. Post which, you can check the eligibility and apply for Loan on credit card | |