5 Things To Consider Before You Invest In Your Loved Ones New Venture
Funding A Startup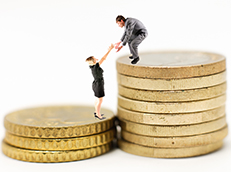 Someone you know – a friend or a family member – has decided to start a business. The idea sounds interesting, and you think there's potential for success. But then the entrepreneur comes to you asking for an investment to help take it to the next stage. Do you instantly whip out your chequebook and make a generous donation?
Naturally, you are interested in seeing your loved one's business idea take off. However, before you consider investing in the business, take a step back and ask yourself: do you wish to invest because you genuinely see possible returns on your investment, or because a loved one has started the business?
Putting money in a start-up can be risky. It is a long-term investment, and unless you are donating, you need to do your due diligence before taking that leap.
Here are five things to consider before you invest your money into a loved one's start-up:
Understand the business plan

Talk with the CEO, or in this case, your friend or relative. Sit down and have a multiple conversations about their plans for the company. Do you both share the same vision and values? What are the skills required to execute the plan? Does the current team have the ability to pull it off? Remember, reading a proposal is never the same as having a long chat.

There are countless excellent business concepts and product ideas, but where many fail is in the execution. So, understand the risks associated with the business, ensure that the founders are aware of them too, and formulate a plan to overcome them.
Talk to an expert

Invest in what you know, or what interests you. To understand the venture better, talk to an industry expert. A professional investor or an investment banker in the same space will be able to help you.

This way you will see aspects of the business that you never knew. Once you have a better understanding of the business, you can be more confident about investing.
Understand the growth prospects

If the business is few years old, study how the company is growing. Does it show more organic growth or has it been expanding by acquiring distribution or smaller businesses? The former is much more valuable as it reveals there's merit in the business idea and business plan.

To truly understand the growth of the business, you will need to dig deep into its financial statements. Have a look at the balance sheet, the income statement, and also the cash flow statements.

You can also rely on HDFC Bank SmartUp – Smart Solutions for Start-ups, a convenient financial tool designed for entrepreneurs. It keeps track of all the financial requirements of a business.
Talk to your lawyer

Talking to your lawyer is imperative. Legal documents can be complicated, so let your lawyer read every page and share feedback. You might not agree with everything they may point out but you must understand what those documents say.
Study the exit strategies

Every business should have an exit strategy. Study the possible exit scenarios within that industry. Ask yourself, "Who will buy this business in 5 years?" For this to happen, how big does the business have to be, and with what margins? Would it be a good idea to go public or should the business aim to be an acquisition target? Is there the chance of an IPO; if not, who are the potential buyers when the business reaches its ideal scale?
Conclusion
Helping a loved one to start a business, or supporting an existing business midway through its journey, does make one feel good. However, you still need to do your due diligence. From the outset, you must obtain as much information as you can about your loved one's business. Study the industry and the actual investment deal as well.
Bear in mind that there are no assurances or guarantees in the investment business. The more information you gather, the more informed your decision will be – thereby bettering your chances of pulling off a coup.
So, apply for HDFC Bank's SmartUp Account today