How A Startup Mentor Can Bridge The Gap Between Good & Great?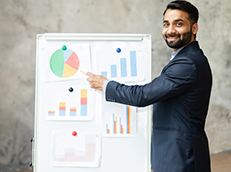 Like Professor Dumbledore did for Harry Potter; Steve Jobs for Mark Zuckerberg; and Mahatma Gandhi for Nelson Mandela, an ideal mentorship can work wonders for your startup
Most startups stem from a disruptive idea. But they also have to deal with a lot of other disruptions, from chalking out a business plan, to hiring the right people, to crunching numbers, to the litmus test of getting adequate funding.
A mentor, therefore, can help to streamline processes, provide insightful advice, and also act as the occasional cheerleader.
Here are six ways how having a mentor can impact the success of your startup:
They bring experience

Mentors have been there and done that. They've had a first-hand experience of (and probably triumphed over) challenges that can send startups into a tizzy. Mentors leverage insights from their experiences, enabling startups to pre-emptively prepare for challenges that might affect them during the critical first few years.

Whether it is deciding the right amount of rainy-day money, devising the right marketing strategy, or setting the parameters for filling important designations, their guidance can go a long way in helping you take the right decisions.
They bring their domain knowledge

Having been in the business for longer also means being acquainted with the who's who of the industry. A mentor can help you network with the right people, which is crucial for the success of a startup. Networking means gaining the right market information and tips, not having to scurry for office space or talent, and maybe even skipping a few steps while seeking funding.
They bring reasoning

Most startups today have a dynamic and younger demographic calling the shots. While age doesn't always equate to maturity, there are times when things start to get a little out of hand and ideas over late-night beer and pizza can seem a little too far-fetched. In such situations a mentor can be a voice of reason, bringing practicality back into the picture.

With experience and expertise riding on their back, a mentor also brings in a higher emotional quotient, thereby steering a startup in the right direction without dimming the entrepreneurial spirit in any way.
They bring in expertise

When startups choose a mentor who knows the trick of the trade, they are automatically strengthening the team by adding skill and expertise. Whether it is figuring taxes, A/B testing of marketing strategies, or simply writing that killer sales pitch, a mentor can reduce trial-and-error to a minimum.
They bring reassurance

The startup scene is often akin to untested waters. There will be pleasant waves you happily dip your feet into, sudden rapids that you have no option but to ride out, and possibly even a massive tsunami on occasion.

When things start looking a little bleak, such as competitors' products flooding the market, funding not going through, or simply friction within the team, a mentor can be the perfect coach to boost morale with a little pep talk or a renewed plan of action.
They may also bring in big bucks

A lot of times a mentor can double as an investor. Someone who sees enough merit in your idea to invest their time and effort will also believe in it enough to invest their money. So they may be willing to go the extra mile since they have a vested interest in your business.

Most startups shy away from choosing a mentor because they feel an outsider may dilute their approach to running the show. But what if you choose a mentor already trusted by millions?

HDFC Bank SmartUp is one such mentor that will help you nurture and grow your startup. You can browse through various features it offers such as financial tools, smart advisory services, and facilities such as current accounts, Salary Accounts, collection services, Mentoring Programs, marketing services, and much more. Click here to know more on how SmartUp can be the perfect mentor to help you glide through your startup journey.
Know more on how to make your start up work.
Looking to apply for HDFC Bank SmartUp? Click here to get started!
* The information provided in this article is generic in nature and for informational purposes only. It is not a substitute for specific advice in your own circumstances. You are recommended to obtain specific professional advice from before you take any/refrain from any action.