NRI Mailbox Services upgraded for your Comfort and Convenience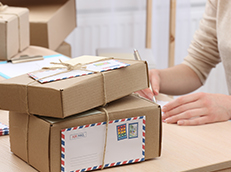 The process of dispatching documents from one country to another has always been an important question where safety and costs are involved.
It is primarily a matter of concern for NRIs residing worldwide when they require specific banking instructions to be sent across to their respective bank.
We at HDFC Bank strive to provide you with a simplified and secured banking experience and make it easier for you to connect with us from any part of the world. Keeping in mind the requirements of our valued NRI customers, we bring you our upgraded NRI Mailbox services.
This upgrade will give a seamless and trouble-free experience for our NRI customers. All you need to do is to drop your courier package at the respective Aramex-Shop and Shop offices in your country of residence. To know more about the list of  NRI mailbox overseas services.
You may wonder why this conversion from NRI PO Box service to NRI Mailbox service?
Firstly, for better services and comprehensive banking experience.
Secondly, with the new NRI Mailbox services, is an excellent alternative to expensive options.
This new service is available to all our NRI customers residing in 25 countries, namely, USA, UK, Malaysia, UAE, Australia, Hongkong, Singapore, etc.
To view the entire list, please click here.
The NRI PO Box upgrade to NRI Mailbox service will commence its functionality from 1st of July 2019.
However, a few crucial aspects to keep in mind while implementing this service :
The customer is required to dispatch their documents in a sealed package or envelope to the list Aramex office employing either their local postal or courier service. Additionally, you can also visit the office personally to drop off your shipment at the listed Aramex office, click here to find your nearest Aramex office.
When using the NRI Mailbox service, it is mandatory to mention the complete address of the listed Aramex office on the envelope or package. You can find the address of the Aramex office in your respective country here.
When you are sending documents by courier, you need to mention "zero" on the value section on the courier label. No value should be stated on the courier package or envelope.
The NRI Mailbox services are only to mail documents. No kind of monetary instruments such as cheques, demand drafts, pay orders, dividend warrants, etc., shall be sent through this service.
With an upgrade of NRI PO Box to NRI Mailbox service, we at HDFC Bank hope to provide safe, quick and seamless deliverables.
Looking to open an HDFC Bank NRI Account? Click here to get started!
* The information provided in this article is generic in nature and for informational purposes only. It is not a substitute for specific advice in your own circumstances.