5 benefits of NRI Account you need to know!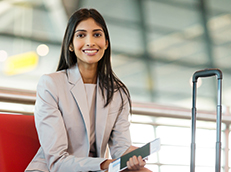 As an NRI, you might not be clear about the various benefits of the accounts available to you. As such, to manage your income and investments, it is essential to open an account with the numerous NRI Benefits in India. Here are five NRI Account benefits that you need to know.
Tax Benefits: Knowledge about taxation on Interest will help you select the right NRI Fixed Deposit. While the interest earned on your NRE Saving Account as well the NRE Fixed Deposit is tax-free in India, savings in the NRO Saving Account as well the NRO Fixed Deposit are subject to TDS as per the Income Tax regulations. You also have an option of transferring funds from your NRO account to NRE account post payment of applicable taxes.
Repatriation Advantages: Another important advantage of NRI Accounts is repatriation benefits. Both NRO and NRE Saving Accounts allow smooth movement of funds because you can repatriate both, the principal and interest abroad. Funds in NRE Accounts are fully and freely repatriable. However, funds in your NRO Account are repatriable only post payment of applicable taxes.
Minimal Balance Requirement: You don't need to maintain high balances in your NRE and NRO Accounts. Many banks have dropped their minimum balance requirement significantly. Nowadays, most banks require just Rs. 10,000 as a minimum balance.
FCNR Deposit: In addition to NRE/NRO saving accounts and NRE/NRO fixed deposits you also have an option of booking Foreign Currency Deposits. So if you want to save your earnings in Foreign Currency then you can book FCNR deposit and earn interest in Foreign Currency. Interest earned on FCNR deposits are also tax-free in India.
Convenience benefits: One more advantage of NRE and NRO Accounts is convenience. Opening an NRI Account is easy. Most banks allow you to open NRI accounts without visiting the branch in India. All you need to do is fill a form online, take a printout, attach the self-attested copy of the required documents and courier it to the bank in India. HDFC Bank allows conversion of your existing Resident account to NRO account by simply emailing the required documents to the Branch via your register email id.
Know more about the different types of NRI Accounts here.
Looking to apply for an NRI Account? Click here to get started!
* The information provided in this article is generic in nature and for informational purposes only. It is not a substitute for specific advice in your own circumstances.
NRE Account and its Benefits
Difference Between NRE & NRO Accounts
5 Benefits Of NRI Account You Need To Know!