Know What is Passbook and How to Update it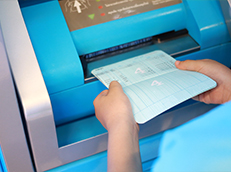 What is a passbook?
A bank passbook is a booklet provided to bank account holders detailing all their banking transactions. A bank passbook gives you ALL the information about the banking activity in your account. The information includes debit, credit, loan details, details about fixed deposits and recurring deposits, among other elements. 
What is the purpose of a passbook?
It gives complete information to the account holder about financial activity happening through their account. It increases accountability and transparency.
Now you have the passbook feature available on your banking app too! You can update your passbook on your mobile app by simply logging in to it.
With access to your passbook, you can track your income and expenditure better.
For the purpose of organising better, you can track all your sources of income and dues paid off. You can also tag and label expenses for better financial planning and record-keeping.
Your digital passbook is available to you round the clock. 
The passbook is an authorised document that doubles up as address proof and proof of identity.
What are the elements in a bank passbook?
To make banking more transparent for customers, banks provide the following details in a passbook;
Debit Transactions
a) Details about payments to third parties -- the name of the payee, mode of payment (RTGS/ NEFT/ Cash/ Cheque/ interbank among others), name of the bank that is making the transfer in case of interbank transactions)
b) Details about self-payments 
c) Details about DDs/ pay orders (name of the paying entity and drawee bank)
d) Bank charges
e) Reversal of wrong credits
f) Details of EMIs paid         
g) Details about fixed deposits and recurring deposits opened with the bank
Credit transactions
a) Cash deposit details
b) Receipts from third parties -- remitter details, mode of payment, bank details in case of interbank transaction
c) Interest on deposits
d) Reversal of wrong debits
e) Receipts from clearing/DDs 
f) FD/RD maturity
g) Loan-related transaction details.
Can passbooks be digital?
Yes. They can be. These days, banks have the passbook feature built within their mobile apps like HDFC Bank's mPassbook. The biggest advantage of the mPassbook is, it saves you time. You can now skip the branch visits for updating your passbook. Digital passbooks are also a convenient way of receiving regular updates on your savings or current account, the status of fixed deposits and recurring deposits among other transactions. They are a virtual representation of your physical passbook with all your banking particulars presented in a tabular format. 
How to update passbook?
If you prefer face-to-face interaction with your banker, you can simply walk into the nearest branch of your bank. Walk up to the teller and give your passbook for updating. The teller will update it, get it stamped and signed by authorised bank personnel before handing it back to you. 
How to update your digital passbook?
Register yourself by getting a user id (commonly your CIF-customer identification file) and password.
You may be asked for your registered mobile number linked to your bank account to authenticate your identity.
You will receive a One-Time Password (OTP) on your mobile messaging service.
On entering the OTP, you will be allowed to create a new password, usually a 4-digit password. Do keep a record of the user id and password you create for following sign-ins. 
Once you sign into the app, you will find the passbook feature which you can evaluate, update, and even add notes to.
Click here to update your HDFC Bank digital passbook!