What is a Startup Mentor & Why you need it?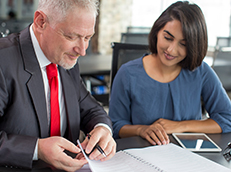 Every business needs to start somewhere. And while you may have the right idea for the product or service around which your fledgling business is based, you may lack knowledge and experience in other areas. This could end up causing you problems. It is important, therefore, to have a source of good information to act as a guiding light for you. A start-up mentor can be very beneficial in this regard.
What is a start-up mentor?
            There is always someone around with knowledge and experience in a particular field who can provide guidance. These people are, in a way, mentors. A start-up mentor is someone who provides mentorship to a start-up business owing to their knowledge and experience with starting and running a business. It can be someone you admire and trust.
            But if you do not know anybody in the field, you need not worry. You can consult professional start-up mentors over various sessions. Several structured programs are available which include sessions with a mentor.
Why you need a start-up mentor
            There are several benefits and advantages that come with having a start-up mentor. Here are a few reasons why you should find a mentor for your start-up:
Honest Assessment
A mentor will provide you with an honest assessment of your business and point out what is working and what isn't. Working passionately towards building your business is a good thing, but you run the risk of getting tunnel vision and missing a few crucial pointers here and there.
Critical examination
The mentor will attack your idea and plan from every angle to understand its state. This can help reveal aspects of your business and open up avenues you may not have been aware of.
Big Picture
Often, working on the little details can make you miss out on the greater vision behind the business and its potential. A mentor can help you take a step back and keep your focus on the right aspects of the job.
Opening avenues
As mentioned earlier, a mentor can look at your plan from a different angle. As such, he/she will be able to see potential avenues that you could not, and open up new possibilities for your business.
Higher standards
A mentor's experience can valuable when it comes to assessment of your start-up and he/she will know what to aim for. This will lead to setting higher standards for your business, so it can grow into a trusted brand.
Motivation and Patience
A start-up mentor calls upon his/her experience to guide you when you need to be patient with slow growth. Further, it's not uncommon to lose energy and feel de-motivated when the business goes through a lean phase. A mentor can be vital in motivating you.
Knowledge and Solutions
A start-up mentor's knowledge can prove very useful in finding the right solutions for any situation that you may face while starting your own business.
Sounding board
Mentors are not going to be available at your beck and call. You should consider them as sounding boards for your ideas. They can be wonderful catalysts for your personal growth.
A Few Things To Consider
            There are some things you need to consider when looking for a start-up mentor:
Know what you want from a mentor. If your idea is a bit too radical for the mentor or if your mentor is not the target audience for your start-up, then you need to look for someone whose experience is more in line with what you are trying to accomplish.
Look for mentors who are specialists and experts in the chosen field, rather than mentors who only give general advice. While it is fine to have some general advice in the early stages, your start-up will need some very specific in-depth advice regarding the field it functions in.
How to find a mentor for start-up in India
      There are various structured programs, known as incubator programs or accelerator programs, for start-ups. These programs often include sessions with a start-up mentor. Banks have also taken a keen interest in start-ups and their growth potential.
HDFC Bank SmartUp account plan offers start-up mentors in India. It is advisable to seek out professional consultation, such as that provided by HDFC Bank, in these matters. To open your SmartUp account, click here to get started.
Read more on how you can reduce inefficient banking time for your start-up.
To apply for HDFC Bank SmartUP, click here to get started.
* The information provided in this article is generic in nature and for informational purposes only. It is not a substitute for specific advice in your own circumstances. You are recommended to obtain specific professional advice from before you take any/refrain from any action.