All You Need to Know About Current Account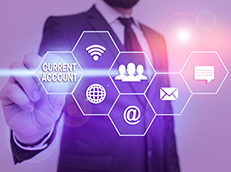 Have you ever visited a bank and noticed the different counters they have? Most banks have different counters that cater to the various needs of people. They have dedicated departments for each need that will help ease your banking experience. But did you know that banks have different types of accounts as well? While the savings account is quite popular on an individual level, there's also another account called the current account which is widely used among businesses. Let's take a closer look at what is a current account.
As mentioned above, a current account is an account meant for business. Unlike savings accounts that cater to individuals who want to save money, current accounts are mainly used to service the needs of the businesses. Also, current accounts provide higher number of transactions limits on monthly cash deposit / withdrawal (within city or outside city) compared to savings account.
What are the features of a current account?
One of the most important features of a current account is the fact that it bears no interest at all. The funds in a current account are always made available to the account holder whenever needed, and to compensate for this extra liquidity that the bank provides, there is no interest charged on current accounts.
Another feature of current accounts is that you can make numerous withdrawals and deposits in the accounts basis account variant type. For e.g. a basic current account with 10,000 AQB provides 25 transactions free for cash deposit whereas highest variant provides 3000 free transactions (subject to balance maintained). Also, there are no restrictions on the number of cheques issued by businesses or the number of transfers done via internet banking.
What are the benefits of a current account?
There are several benefits of operating a current account for business owners:
Any time withdrawal facility to meet the cash needs of the business.
A current account holder can deposit cash or cheques at different bank branches which makes it extremely convenient to collect payments from small customers.
Availing an overdraft facility against a current account is easy. Having an overdraft helps meet the working capital needs of the business at any point in
Customized Current account variants are available basis type of entity/ business/ account holder. For example, HDFC Bank has a distinct type of current account for trusts, societies, associations, clubs, etc. which offers free cash deposit of up to Rs. 50 lakh per month. This is very beneficial when associations have to collect fees from their members or students and have several deposits at a few select times during the year.
Current account holders get a separate cheque balance that can be used every month. In a savings account, the cheques are issued for an entire year, and the account holder has to pay charges for a new chequebook. However, that is not the case with current account holders as they get a monthly allowance of cheques at no charge. This helps make payments to vendors hassle-free.
With phone and SMS banking, it is possible to get SMS updates about transactions and balances. There is no need to visit the bank branch to find out details.
A current account has many benefits for professionals, businessmen, and for associations, societies and trusts. The liquid nature and flexibility of the account make it an irreplaceable account for business.
Want to know more about the difference between the Current Account and Savings Account? Read more!
Looking to apply for an HDFC Bank Current Account? Click here to get started!
* The information provided in this article is generic in nature and for informational purposes only. It is not a substitute for specific advice in your own circumstances.