ThisPageDoesNotCntainIconPay

What is EMI Card Know its Benefits Features HDFC Bank
What Is EMI Card? – Know Its Benefits & Features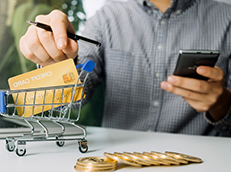 We all have aspirations in life. Be it buying the best DSLR camera to honing our passion for photography or that latest refrigerator we want our moms to own proudly in their kitchens. It goes without saying making big-ticket purchases takes planning and some committment. With a bit of smart thinking your elaborate shopping can now become manageable. 

HDFC Bank EasyEMI Card is one-of-a-kind and big purchases can now be accommodated in small budgets. You can get this card only with HDFC Bank and have access to a shopping experience like you've never had before.

​​​​​​​What is the HDFC Bank EasyEMI Card?
The HDFC Bank EasyEMI Card allows for buying substantially large expense items with easy EMIs. It comes with a pre-defined credit limit like any other Credit Card and can be used to pay for big ticket items and pay in easy instalments unlike a Credit Card.
There are several benefits of the HDFC Bank EasyEMI Card. Here they are:

Automatic EMI conversion feature:
HDFC Bank issues EasyEMI Card with a pre-approved credit limit up to which you can make purchases. The pre-approved limit can be used at stores without requiring any further approval from the bank. This makes your buying experience seamless. 
 Any purchase (excluding Fuel and Jewellery transactions) of Rs.10000 is automatically converted to EMIs when your use your HDFC Bank EasyEMI Card. This option reduces time and effort looking for alternative ways to fund your big expenses. 

Minimum Documentation
With HDFC Bank EasyEMI Card, just go ahead and own. Because there is no paperwork at all once you hold the card! 

Online and Offline:
Whether it is to make purchases offline at Point of Sales machines or online on e-commerce sites, HDFC Bank EasyEMI Card offers flexibility to customers to make purchases across channels. HDFC Bank has made the use of EasyEMI Card as seamless as a debit or credit card. 

EMI Tenure:
The HDFC Bank EasyEMI card comes with the option of repayment in 9 months.

Secure:
HDFC Bank EasyEMI Card ensures safe and secure transactions. Similar to any Debit or Credit Card, the HDFC Bank EasyEMI Card requires an additional layer of authentication with a One Time Password triggered to the registered mobile number. The OTP is required to authenticate the transaction both online and offline, ensuring that there is no misusage of the Card.

No Foreclosure charges:
If you've been holding off on a big purchase due to financial reasons, the EMI Card is your best bet to go ahead without burning a hole in your pocket. 
Apply now for an HDFC Bank EasyEMI Card to maximise your big purchases.