ThisPageDoesNotCntainIconPay

What are add on Credit Cards How do they work
What is Add on Credit Card and How it Works?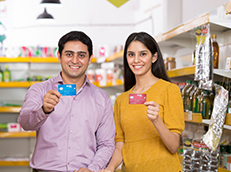 Credit Cards have proven to be very useful. For one, it can allow you to borrow a large funds from the lending institute, if the needs arises on a short notice. Moreover, it allows you to get special offers and collect Reward Points with each purchase you make on the card.
However, you first need to satisfy certain qualifications before you can be eligible to apply for one. This would include having a steady income and an adequate credit history. Moreover, your credit score needs to be within the applicable range to be eligible for this.
In such a situation, individuals such as students, or even first time job holders, may have a hard time being eligible for a Credit Card application. But there are certain ways one can take advantage of a Credit Card, especially if a family member is an existing Credit Card holder.
This is where the add on Credit Card works.
What is an add-on Credit Card?
Add-on Credit Cards, are additional Credit Cards, that are issued against a primary Credit Card. They are a form of secondary or supplementary Credit Card.
How do they work?
If you are a primary cardholder, you can apply for add-on cards for your children, spouse, or even your parents. The benefits and features of the add-on card are similar to that of the primary Credit Card and the number of add-on cards one can own varies from bank to bank. Normally, it is between three and five.
The fee for an add-on card differs depending on the type of card; it is generally between Rs 125 and Rs 1000. All the expenses incurred on the additional Credit Card are to be paid by the primary Credit Card holder.
This is what you must know about add-on Credit Cards:
Credit limit
The credit limit on the add-on card is generally the same as that on the primary Credit Card. In some cases, the limit of credit on add-on cards is less than that of the primary card. Thus, it is at the discretion of banks to decide the credit limit on add-on cards.
Read more on how to increase your Credit Card limit here.
Credit score
All the dues of add-on cards are billed to the primary cardholder and any delay in payment would reflect in their CIBIL report and affect their credit score. It is thus very important for the primary cardholder to be in sync with the usage of their add-on cards.
A primary cardholder has the option of tracking all their cards so they are aware of the transactions done on their add-on card. They can thereby control the same.
Add-on cards also come with various benefits, such as the following:
International usage of the card is permitted, both online and offline
Reward points and various discounts and gifts are applicable on add-on cards too
It can be helpful in case of emergencies
How to apply for an add-on card
Many banks offer add-on cards to their customers. The application process is very easy.
The first and foremost step is to visit the bank's official website. A form is available under the option of 'Credit Cards' which is the application form for add-on cards
The form must be filled completely and accurately with personal details
The process requires the submission of various documents. The required documents may vary from bank to bank
The person applying for an add-on card should also meet the eligibility requirements of the bank they are applying to
After filling the form and attaching requisite documents, one can submit the same at the nearest branch of the bank
Most of the features of add-on cards are shared with the primary card. The fees and charges levied on both are also similar in most cases. Thus, an add-on card is a boon to a primary Credit Card holder who wants to gift financial freedom to a loved one while also keeping their finances in check. It is also beneficial when it comes to availing offers and reward points, or even when shopping for specific brands such as Marks & Spenser's, Shopper Stop, Lifestyle and many more.
HDFC Bank, one of the leading banks in India, provides a wide range of add-on cards, each serving a specific purpose. There are Super Premium Cards, Co-Brand Cards and Premium Travel Cards that come under the category of 'lifestyle' Credit Cards and offer amazing benefits such as Reward Point redemption at airlines, Club Memberships, Priority Pass, discounts at restaurants, Fuel Surcharge waiver, Weekend Bonanza, great offers on Movies, Dining, etc.
There's also a Premium Women's Credit Card that comes with exclusive benefits for women. That aside, there's a category of Professional Cards that facilitate reward points and special offers on specific days.
As HDFC Bank provides plenty of options to choose from, gifting an HDFC Bank add-on card to a loved one gives them not only financial freedom but also a host of benefits. This makes getting one a win-win situation.
Looking to apply for an HDFC Bank Credit Card? Click to get started!
* Terms & conditions apply. Credit Card approvals are at sole discretion of HDFC Bank Ltd. The information provided in this article is generic in nature and for informational purposes only. It is not a substitute for specific advice in your own circumstances.

Apply for instant credit card and enjoy special privileges and cashback offers with HDFC Bank