How can you use a Digital Wallet?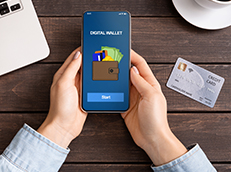 You keep a wallet in your pockets, don't you? You use it to carry cash and Credit and Debit Cards. Now imagine, if you did not have to carry all your money around physically. Rather, all your money is stored on an app in your mobile phone. And you can use it to pay for anything you like. How cool would that be? That is exactly what Digital Wallets are.
Digital Wallets are like a virtual Pre-Paid Card where you can store value the money for usage also it allows access to link your bank account, Credit card or Debit Card to make transactions in an easy, effortless manner.
How to use Digital Wallets?
Digital Wallets are extremely easy to use. You can get started in minutes. For example, you can start using HDFC Bank PayZapp in three simple steps-
Step 1: Download the PayZapp App. You can do it one of four ways
Download from the App Store or on Google Play
Give a missed call to 1800 833 4141 (toll-free)
SMS <PAYZAPP> to 5676712
Scan the QR code

Step 2: Complete registration
Use your mobile number already registered with HDFC Bank to register for PayZapp. You will get a one-time authentication code. Enter it. Create a 4- to 8-digit PIN for your account to keep it secure.
Step 3: Link your Credit or Debit card
Simply scan your card or enter your details to link any Credit or Debit Card, be it HDFC Bank or other bank card.
You are now all set to pay using PayZapp!
How to pay using a Digital Wallet
You can instantly pay for your purchases, transfer funds to a bank account or send money to friends and family. Here's how you can pay or send money to a bank account in 4 easy steps:
Click on pay/send money
Choose the bank icon
Enter the bank and account details
Complete payment
If the person you want to pay or send money to already has a PayZapp account, you can do the following:
Click on pay or send money
Choose mobile or email
Enter the details
Pay
How to pay with a Digital Wallet using Bharat QR
You can pay at a physical store using PayZapp instead of swiping your card if the merchant has a Bharat QR code issued by HDFC Bank (read more about the Bharat QR code). Scan N Pay option is available only on select online merchants as well as select HDFC Bank issued Bharat QR merchants.
Click on scan to pay
Scan the Bharat QR code
Check the amount displayed or enter it manually
Approve the payment
How to make online payments with your Digital Wallet
Easily make payments for online purchases through PayZapp – in just 3 easy steps.
Open your app and select 'Pay with PayZapp'
Choose the - payment option i.e Pay through Linked Debit or Credit Cards or Pay through PayZapp Prepaid Card
Approve the payment
You can use a Digital Wallet to make a wide range of payments instantly – be it groceries or movie tickets, electricity bill or - instant mobile recharge, hotel room or flight, lifestyle products and many more.  Freedom to pay across various online or offline retail merchants. And best part of PayZapp is its provide amazing rewards on almost every transaction you do!
Want to know more about what is PayZapp? Click here to get started!
* The information provided in this article is generic in nature and for informational purposes only. It is not a substitute for specific advice in your own circumstances.