May Lord Ganesha remove all obstacles & bring you prosperity.
On this auspicious occasion, book an HDFC Bank Fixed Deposit online worth Rs.10,000 & above and win
vouchers worth Rs.3,500! *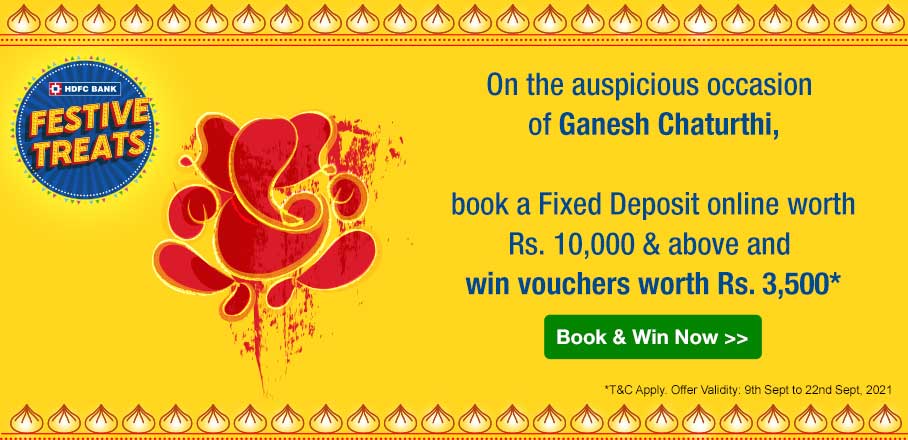 Offer: Book FD worth Rs. 10,000 or more through online mode – NetBanking, MobileBanking or Instant booking through mobile number and get vouchers. Offer valid for FD booking tenure of greater than equal to 1 year.

Terms & Conditions:
Offer is at customer level i.e. single offer per customer. Only one offer can be claimed by one customer.
This offer is only for FD booking from 8th September to 22nd September 2021 and that through online channels – NetBanking, MobileBanking & 3 step Login using instant form
The offer is applicable for booking of FD value greater than or equal to INR 10,000
The min tenure for the offer is 1 year
The offer voucher will be given to the customers post 45 days of booking the FD
The offer vouchers will have a discount code which can be redeemed by the customers and the usage will be tracked
All discounts / Offers are offered by the participating merchants / brands
Offer will be applicable for FDs booked during promo period and live in the system till the offer fulfilment date.
This offer is valid for HDFC Bank customers
HDFC Bank reserves the right to, without liability or prejudice to any of its other rights, at any time, without previous notice and from time to time, withdraw/suspend/amend/cancel any offer, without assigning any reasons thereof. In case of any dispute or discretion, HDFC Bank's decision shall be binding and final. The aforesaid Offers are subject to applicable law, regulations and regulatory guidelines issued by regulatory bodies and would be modified / discontinued based on the prevailing law / regulation at any point of time and neither party shall be under any liability or obligation or continue implementation of the said Offers till such time the terms are modified by the Parties as per the prevailing/ amended law/guidelines at that point of time. In the event that the Offer/'s cannot be continued without total compliance of the prevailing law or guidelines at any point of time, the said Offer shall be deemed to be terminated forthwith from the date when the amended law restricting / prohibiting the Offer comes into force.
Offer will include discount vouchers from following brands*:
Brand

Offer

Value (Rs.)

Home Centre

INR 500 OFF on minimum purchase of INR 5000 & above

500

Euphoria Jewellery

Flat INR 1000 OFF on purchase of 2 gm Gold Coin 995 (offer applicable only on 2 gm Gold Coin 995)

1000

Kalyan Jewellers

Flat INR 1000 OFF on minimum purchase of INR 30000 or above (offer applicable only on Gold Jewellery)

1000

Kalyan Jewellers

Flat INR 1000 OFF on minimum purchase of INR 20000 or above (offer applicable only on Diamond Jewellery)

1000

Total

3500
Offer Redemption Process:
Execution of the Conditional Vouchers: The Conditional Vouchers / Offers will be listed on a microsite from where the customers will be able to redeem the same:
The customer will receive a communication with the microsite link.

The eligible customer will be able to view all such offers in one go.

As a second step, the customer clicks on 'CLAIM CODE' call to action for the chosen Conditional Voucher

Upon viewing such a pop-up, customer needs to enter the requested information (Mobile Number & Email id(optional))

Customers will receive the OTP on their registered mobile number, enter in the 'Enter OTP' box for validation, click on submit, and the chosen Conditional Voucher will reach the customer's mobile number & email instantly.