High Savings Account Interest Rate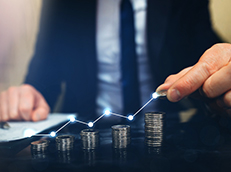 A Savings Account is one of the best accounts for individuals and families. It provides a safe outlet to collect funds and can be used to make payments, draw cheques, and make investments. Savings Accounts offer a stable source of income. However, the rate of interest on a Savings Account has historically been low. Currently, the rates are around 3.5% to 4% per annum*. Even with these low rates, there are ways to get a higher rate and a higher earning on the common Savings Account.
Here are 3 ways of how you can maximize your Savings Account interest rates:
Ways to maintain average monthly balance:

It is not required for you to maintain the minimum balance every day of the month. This is specially useful for people who use the Savings Account to make their monthly expenditures such as payment of bills and other expenses. By adjusting the amount kept in the Savings Account, so that it averages to the minimum monthly balance is enough to avoid any penalties from the bank. For example, if the average monthly balance is Rs. 10,000, it is not necessary for you to maintain that balance every single day of the month. If you adjust your spends and inflows in such a way that the average is Rs. 10,000 you can still earn the same rate of interest on your balance.  If you get an Insta Account, you do not need to maintain any minimum balance and you will not be charged any penalty. Click Here to know more about Insta Account.
Open specific Savings Accounts:

Banks offer a range of different Savings Account. Some types of Savings Accounts are Kids Savings Accounts, Senior Citizen Savings Accounts, Youth Savings Accounts amongst many others. 

These accounts have a higher interest rate and they also offer other benefits at the same time. For example, Senior Citizens Accounts usually command a higher rate of interest as compared to normal Savings Accounts. By adding in sweep in facility, it is possible to earn higher returns from this account.

Read more on the different Savings Account available.
Opt for Sweep In facility:

A Sweep In facility is an automatic facility where any amount above a particular limit is automatically converted to a Fixed Deposit. In case of fund requirements, the bank automatically liquidates the Fixed Deposit to meet the fund requirements. Otherwise, the excess funds earn interest at Fixed Deposit rates. For example, if the minimum balance needed to be maintained is Rs. 25,000, an auto sweep may convert any amount above Rs.50,000 into a Fixed Deposit. This money will earn interest at a higher rate and the interest will get credited to the Savings Account. Depending upon your standing instructions, the bank will start the sweep in facility. It is better to deploy idle funds in Fixed Deposits and earn at those rates as compared to leaving them in the Savings Account.
A Savings Account is one of the most dependable places to keep funds. By following a few tips and tricks, it is possible to maximize your Savings Account interest rates.
With HDFC Bank InstaAccount open a Savings Account instantly in a few simple steps. It comes pre-enabled with HDFC Bank NetBanking & MobileBanking and you can enjoy Cardless Cash withdrawals. Click here to get started!
Click here to open a Savings Account.

* The information provided in this article is generic in nature and for informational purposes only. It is not a substitute for specific advice in your own circumstances.