Features of Savings Account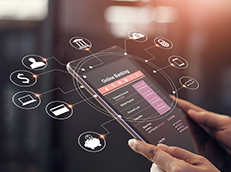 You probably got your first bank account when you were in school or college, in which case it's likely to have been a Savings Account. Often, this is the first banking experience for most people.
Traditionally, a Savings Account served two purposes: first, it kept your deposits safe, and second, it enabled you to make some extra money through interest. In fact, as a child, this was probably all that mattered to you – how much you earned through interest, and how much more you could withdraw.
However, ever since the State's monopoly on the banking sector was eased to let in private players, the humble Savings Account has seen the addition of more and more features over time. This has elevated your everyday banking experience from mundane to exciting. In case you are unaware of the various add-on features, do yourself a favour and familiarise yourself with some of the newer (and more lucrative) features.
Feature range
The immediate upgrades are of course those enabled by technology: online banking transactions such as automated bill payment, fund transfer (NEFT, RTGS, IMPS), e-wallet services, and Debit-cum-ATM cards for both, domestic and international use.
Then there are innovative schemes such as the sweep facility, discounts and CashBack benefits, attractive locker facilities, Zero-Balance Savings Accounts, and even annual fee waivers.
Private banks have also introduced 'quick service'. For instance, creating a new account at HDFC Bank takes only minutes, and loan approvals take about the same time. If you're a new customer, service executives from HDFC Bank even fill out your forms and help you better understand the facilities on offer.
Frequently, private banks offer higher interest rates (depending on the nature of your Savings Account). This, in fact, is the bargaining power they have over most state-owned banks.
Women's special
Many banks also have customer-specific offers, including some targeted exclusively at women and children. A case in point is the Women's Savings Account from HDFC Bank, which comes with some attractive features such as MoneyMaximiser, EasyShop (an advantageous Debit Card for women), and even personal accident death cover for up to Rs 10 lakh.
This Savings Account also includes other advantages basis your relationship with the bank such as preferential rates and processing fees waivers on Two-Wheeler, Car, Gold And Personal Loans, and CashBack offers. The EasyShop Debit Card, for instance, has a CashBack offer of Rs. 1 for every Rs. 200 spent; a daily cash withdrawal limit of Rs 25,000, and a daily shopping limit of Rs 1.75 lakh.
Main benefits of a Savings Account
Sweep facility: Under this, the deposit balance gets transferred automatically to a slab with a higher rate of interest than the standard rate as soon as it exceeds a pre-determined level. However, this facility does not kick in automatically; as an account holder, you have to complete a few formalities to activate it. 
Discount benefits: Banks often offer discounts and CashBack schemes to Savings Account holders at 'partner locations' such as specific petrol pumps (via fuel surcharge waiver) if payments are made through that bank's debit card. This can also apply to restaurants, shopping sites and more.  
Locker facility: Account holders can be offered up to 30% discount on annual locker fees, but not all banks offer this scheme. Besides, qualification for the facility can depend on the type of Savings Account you have.
International Debit Cards: Sometimes your bank may offer a free Debit Card that is valid abroad.
Automated bill payments: If given standing instructions, banks these days can clear bills on your behalf – those related to Credit Cards, utilities (electricity, mobile etc.), insurance premiums, and others.

So, when you're getting a Savings Account, ensure it offers you all these features and more. And make the most use of them to have a safe, convenient and delightful banking experience.

Click here to know more about the different HDFC Bank Savings Account.
​​​​​​​
With HDFC Bank InstaAccount open a Savings Account instantly in a few simple steps. It comes pre-enabled with HDFC Bank NetBanking & MobileBanking and you can enjoy Cardless Cash withdrawals. Click here to get started!
Want to save to spend? Read more on how a Savings Account can help you.


Click here to Open a Savings Account.
* The information provided in this article is generic in nature and for informational purposes only. It is not a substitute for specific advice in your own circumstances.