Save & Invest - Do Both with Savings Account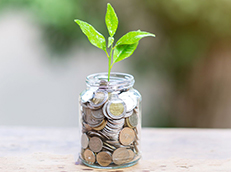 As you may already know, a Savings Account is an ideal haven for your money to stay safe and grow with interest over the years. However, another way you can multiply your wealth through a Savings Account is by using it to make investments. And the most preferred and risk-free investment avenues are Fixed Deposits and Recurring Deposits. 


A Fixed Deposit is ideal for those who have a lumpsum amount and want to invest immediately. In this type of investment, you earn interest on the total amount paid initially and can redeem the principal and interest at the end of the term. HDFC Bank offers one of the highest interest rates on Fixed Deposits, making it an ideal investment opportunity. 


A Recurring Deposit is advisable for those who desire to keep investing a fixed amount of money each month and earn interest on this monthly deposit. And you receive the principal amount and interest at the end of the term.


Automatic deposit
If you have an HDFC Bank Savings Account, you can easily convert your surplus money into high earning Fixed Deposits via the MoneyMaximizer facility. It is an option given to Savings Account holders where any amount above a particular limit is automatically converted to a Fixed Deposit. It is a great way to enjoy your Savings account's liquidity and benefit from higher interest rates. 
It is a hassle-free automated Fixed Deposit booking based on a predefined limit which ensures that you don't have to personally visit the bank to book a Fixed Deposit. 

If you are short of funds, the bank automatically liquidates the Fixed Deposit to meet the fund requirements.

If your deposits fall back, the bank automatically renews the principal and interest for the same tenure as the original deposit. 

Available on SavingsMax, Women's Savings Account and Kids Advantage Account, MoneyMaximizer lets you boost returns on your HDFC Bank Savings account. 


Wondering how to start saving? Read here to know more!


Digital account opening
To keep up with the current times and notch up convenience, HDFC Bank has made it possible for you to open a Savings Account digitally via the InstaAccount website. It is a completely online process that takes just a few minutes and saves you the trouble of having to visit a bank. What's more, you can open an account instantly by undergoing the video KYC process.

Click here to get started your Online Saving Account Opening in secure and simple way.

In four simple steps, you can activate a fully functioning HDFC Bank Savings account:
Enter your details as per your Aadhaar card

Validate your details using an OTP

Complete other account-related information

Click submit 

This way, you can sign up with India's No.1 Bank* from the comfort of your home and enjoy a smooth and safe banking experience. With an HDFC Bank Savings Account, you can even start your investment online. Log in to NetBanking or Mobile Banking and access a range of banking services without physically visiting the bank. 


Money is never stagnant in a Savings Account, and with HDFC Bank offering so many digital facilities, 24X7 banking is just a click away. So, get started and open an HDFC Bank Savings Account by clicking here.  

​​​​​​​
*Terms and conditions apply. The information provided in this article is generic in nature and for informational purposes only. It is not a substitute for specific advice in your own circumstances.