Salary Account Vs Savings Account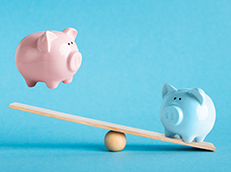 A Salary Account is an account to which your salary gets credited. Usually, banks open these accounts on request of corporations and major companies. Each employee of the company gets their own Salary Account which they are required to operate on their own. When the time comes for the company to pay its employees, the bank takes the money from the company's account and then distributes it to the employers accordingly.
            So, what exactly is the difference between a Savings Account and a Salary Account?
Purpose
While a Salary Account is usually opened with the purpose of an employer crediting the salary to the employee, a Savings Account is opened to deposit money for the purpose of holding or saving it with the bank. Both Savings and Salary Accounts can be opened as an Insta Account.


Minimum Balance Requirement
Salary Accounts usually don't come with a minimum balance requirement, while banks require that you maintain a certain amount of minimum balance in your Savings Account. If you open an Insta Saving Account, you can use even the Saving Account without requiring a minimum balance for up to a year.


Conversion
If the salary has not been credited to your Salary Account for a certain period of time (usually three months) then the bank will convert your Salary Account into a regular Savings Account with a minimum balance requirement. On the other hand, if your bank permits, you can convert your Savings Account to your Salary Account. This is possible if you change your job, and your new employer happens to have a banking relationship with the same bank for its employees' Salary Accounts.


Interest rates
Banks offer interest on both Salary as well as Savings Account. The interest rates depend on the type of Savings/Salary Account you have.


Who can open the account?
A corporate Salary Account can be opened by an individual whose company has a salary relationship with us. A Salary Account is created by the employer.



The purpose of the Account is such that it makes sense for the employer to be the one who creates it. In contrast, anyone can open a Savings Account. You can choose from various Savings Account variants here.


These differences are helpful when considering any conversion of a Salary Account into a Savings Account, or if you frequently switch jobs. 

In case of the latter, if you have not closed down or converted any previous Salary Account after switching employers, then be sure to do so, else banks will charge a maintenance fee or a penalty on not maintaining a minimum balance on these now converted Savings Accounts.


Can I use my existing Salary Account if I have changed employers?
Yes, in case an arrangement exists, we request you to visit the nearest branch along with a letter or an e-mail received from the official Corporate email ID. The letter / e-mail should have your complete name and account number and state that you have joined the corporate.
Is employment confirmation mandatory to open a Premium Salary Account?
Yes, employment confirmation is required to ensure that you are an employee of the company.
Can a Salary Account have a joint applicant?

Yes, parents, spouse, child or sibling can be a joint applicant to an account. The joint applicant will need to submit a valid photo ID and address proof. 

With HDFC Bank InstaAccount open a Savings Account instantly in a few simple steps. It comes pre-enabled with HDFC Bank NetBanking & MobileBanking and you can enjoy Cardless Cash withdrawals. Click here to get started!
​​​​​​​
Know more about the Current Account and Savings Account here.
*The information provided in this article is generic in nature and for informational purposes only. It is not a substitute for specific advice in your own circumstances.