Use social media to bank
Guide to social media banking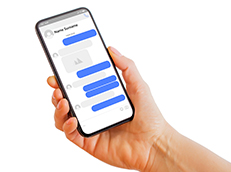 Love social media? Now use it to make payments on the go!

Read our guide to know how you can make the most of social media banking.

Why use social media
Skip the need for an additional app.
Choose from a range of transactions, from DTH payments to cab booking.
Enjoy secure transactions—payments are completed over a highly secure link via PCI DSS compliant payment gateway.
Step 1: Get started
Search the user @hdfcbankonchat on your Facebook messenger app and say Hi!
Any bank's customer can use @hdfcbankonchat's services.
Verify your mobile number via OTP for one time authentication.
Register your email address, which is used to confirm transactions and receive invoices.
Step 2: Choose your service
Avail any of the following services: mobile recharge, utility bill payments, event tickets, cab booking, bus booking, hotel reservations and flight ticket booking.
Use simple terms and phrases to select a service, such as "electricity" or "mobile recharge".
Choose your service provider by typing in the name, such as "Reliance Energy" or "Airtel".
Step 3: Provide your details
Share information necessary to initiate the transaction, such as customer number or mobile number.
Or provide details to find search results, such as origin, destination, number of passengers and date of travel for bookings.
Step 4: Confirm transaction
Verify the details of your transaction, such as your bus or flight timings, dates of hotel stay, recharge or bill amount.
Step 5: Pay for your service
Choose to pay via debit card, credit card or online banking.