ThisPageDoesNotCntainIconDigital Banking

Ways That Mobile Apps Are Making Banking Easy For You
X Ways that mobile apps are making banking easy for you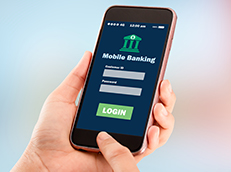 Technology-enabled handheld devices are the future of banking. Slowly but surely, more and more consumers are opting for the convenience that Mobile Banking provides, as opposed to traditional branch banking.
While basic transactional features such as funds transfer and balance updates have been around for some time, today's Mobile Banking experience offers some advanced features. Here are some of them:
Customisation: You don't have to sift through pages of links to find what you are looking for. Contemporary banking apps allow customisation of the menu so you can easily access your most frequently used services.
Investments: Not just banking, your mobile app now allows you to make Term Deposits, Mutual Fund investments, invest in IPOs, and manage your Demat holdings, all in one place.
Bill payment: No need to physically visit the outlets or download specific apps for different services. Most of your utility bills, mobile and DTH connections can be paid from your banking app. Use HDFC Bank SmartPay option to issue standing instructions on your HDFC Bank Credit Card and enjoy free credit period, earn Reward Points and get 5% CashBack on all transactions for the first year. Customers who have prepaid connections can use the recharge via missed call option. They can activate the option for family and friends too through the bank account.
Effective budgeting: You need the right tools for effective budgeting. What if you had everything you needed to stay on top of your expenses in just one place? HDFC Bank Mobile Banking App lets you track all your financial expenses in one place. All of your income, expenses, and savings categorised and managed from a single place for better budgeting.
Alerts: Register for InstaAlerts and stay on top of all your financial activities, available right at your fingertips. Other than regular transaction banking, you can set alerts for bill payments and expense tracking via your banking app. Customise your alerts, so that you that you only receive an intimation for what is relevant to you whether it is the sweet ring of a salary credit or the deadline for a bill payment!
Account history: No need to have your statement updated physically at a branch anymore. Access your account history through your Mobile Banking app with a single click. With the mPassbook you can access your account history anytime and anywhere, even without data connectivity! The tagging feature allows you to add personalised remarks for any transaction, search, filter and categorise all transactions.
Online shopping: The HDFC Bank MobileBanking App helps you compare prices across service providers, and allows you to avail of discounts and CashBack, and redeem loyalty points. Collaborations with the biggest and best shopping portals HDFC Bank customers to pay bills, shop online, book air travel and hotel accommodation on a single exclusive platform.
Convenient payment: Link your Debit or Credit Card with HDFC Bank PayZapp and pay fo your mobile, DTH recharge, utility bills, groceries, movie tickets, shopping and more. You can pay through your linked cards, or UPI through your linked bank account. You can even simply scan the BHARAT QR code and pay. The best part? You not only enjoy the security benefits offered by HDFC Bank, but also end up saving on payments with PayZapp with various Cashback offers.
Feedback and redressal: Any complaints and queries can be addressed and resolved quickly, right in the banking app.
Bank-integrated mobile apps offer the most convenient and secure options for your banking and non-banking needs. The apps are extremely easy on the phone OS, they take very little storage space and don't save any of your information either. HDFC even offers a 'Lite' version of the popular banking app that allows you to conduct a host of transaction even on a slow to almost absent internet connectivity! To experience the best in Mobile Banking app, look for HDFC Bank in the Play Store (Android users) or App Store (iOS).
Read more on how to save money on everyday purchases.
* The information provided in this article is generic in nature and for informational purposes only. It is not a substitute for specific advice in your own circumstances.