content/bbp/repositories/723fb80a-2dde-42a3-9793-7ae1be57c87f?path=/Menu Icons/06d-pay-icon-large-off.pngPAY
content/bbp/repositories/723fb80a-2dde-42a3-9793-7ae1be57c87f?path=/Menu Icons/payment_solutions.svgPayment Solutions

Tokenization
Introducing contactless payments.

TAP & PAY WITH HDFC Bank Credit & Debit Cards
Digital Payments
Lot of digital payment apps these days use the process of 'Tokenization' to replace sensitive information on your card with an alias called 'token' which is hereafter used while processing transactions.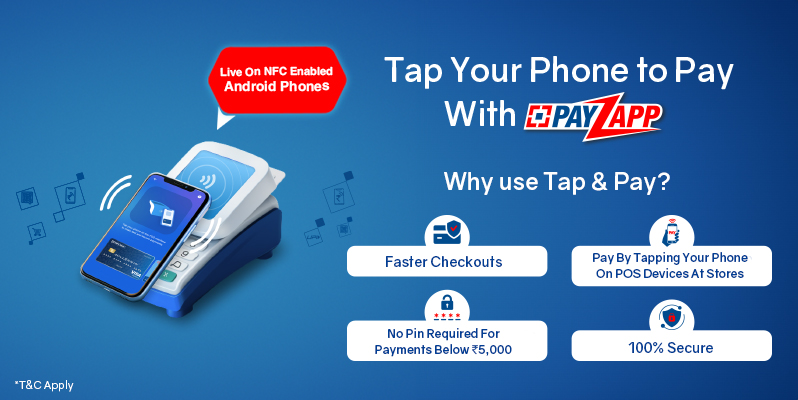 ​​​​​​​

With increasing use of digital payment modes for transactions, it is important for one to understand the secure way of how the app facilitates the contactless transaction at a merchant outlet or via mobile app.
Lets understand what is Tokenization and what exactly happens when the customer taps and pays at a POS terminal or makes payment via Mobile App.  

What is tokenization?
It's a process where the card number is replaced with unique set of characters referred to as token which secures the customer's card details when the transaction is under process.   

Step 1: Credit card holder initiates transaction and enters their card details 
Step 2: Credit card information goes to merchant acquiring bank in form of token 
step 3: Acquirer transmits the token to credit card networks for authorization
step 4: Once authorized, token gets matched to customer account details present in bank secure database
Step 5:Post succesful authorization issuing bank receives decrypted token details and sends success/failure response to Network 

This enables for frictionless and secure payments in different environments-online, in-store and in-app. 
Why save your card on these payment applications?
Because its convenient, secure and quick for bill payments
Ease of use  
Quicker transactions and shorter queues at the checkout are the most significant advantages of contactless payment. Handling cash is not a concern at the checkout. You also don't have the hassle of punching in your PIN for transaction up to INR 5000
Safer transactions 
More reliable and secure than other forms of payment. The token technology protects you against any fraudulent purchases through encryption and dynamic data technologies.
The flexibility of payment devices  
Say goodbye to bulky wallets once you go cashless. Your NFC-enabled smartphone is all you need to make your payments.

Not carrying your Debit/Credit Card? 

If you do not have a Debit/ Credit Card on you, but have saved it on your payment platform on your mobile phone thus ensuring a seamless payment process done via the app
How to save your card on the payment app for seamless transaction ?
Step 1: Go to add payment method and click on add debit/credit card
Step 2: Accept T&C and Click on Proceed
Step 3: Enter 16 digit card details
Step 4: Enter OTP received on registered Mobile number to validate your card
Below are the steps towards using tap & Pay functionality to proceed for merchant payments:
1. Keep your NFC feature enabled on the smartphone
2. Choose your card on the mobile application and directly tap onto the POS machine
3. If amount is less than 5000, no need to enter Pin
4. Payment will be completed and success message will be delivered to registered mobile number
Click here to know about detailed terms and conditions of Credit and debit card tokenization.
*For Paytm Tap & Pay : Applicable only on Visa and Masterc​​ard Credit and Debit Cards on Android device only. ​
*For Google Pay: Applicable only to Visa and Mastercard Credit and Debit card on Android Device Only
*For card control on daily usage limits please visit Mycards - https://mycards.hdfcbank.com 
Login with Registered mobile number and OTP>Add your card details (if not already added)> Select Card Control from Home Page>Enable Contactless Transactions/International Transaction and Set Usage limits>Confirm by OTP or via Netbanking> cards> Credit or Debit card> Request > set daily limits