#Parivartan reached 2 lakh more people compared to last year

Bhubaneswar, 13th August, 2021: HDFC Bank #Parivartan — its umbrella programme for social initiatives — impacted lives of over 33.30 lakh people in Odisha in 2020-21. The bank reached out to 75 villages across 5 districts - Kalahandi, Nayagarh, Ganjam, Rayagada and Koraput. #Parivartan aims at mainstreaming economically & socially-challenged groups across the country by ushering growth, development and empowerment. HDFC Bank spent ₹634.91 crore through #Parivartan nationally and emerged as one of India's largest CSR spender in 2020-21. This was 18.5% more than previous year.
 Parivartan highlights in Odisha: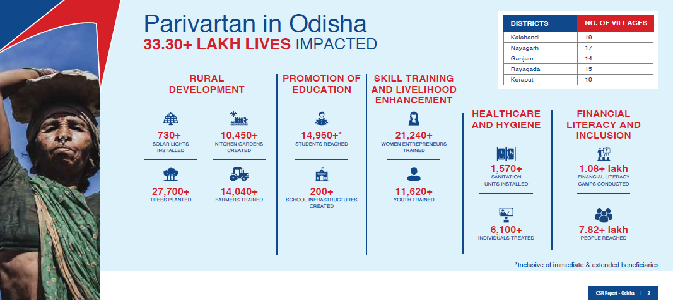 "Committed to developing sustainable ecosystems through various partnerships, we identify & support programmes that seek to develop & advance communities" said Mr. Sandeep Verma, Branch Banking Head, HDFC Bank. "The teams between the bank, CSR department and NGO partners work closely to identify areas, locations and people to work with. This helps us in addressing the most pressing issue to work upon. Although our programmes are holistic in nature, initiatives that delivered the maximum benefit in the state were conducting over 1.08 lakh financial literacy & inclusion camps that benefited over 7.82 lakh people and providing skill training and livelihood enhancement to more than 21,240 women entrepreneurs and 11,620 youth".
GRASSROOT STORY OF PARIVARTAN
IMPROVING THE LIVELIHOOD OF FARMERS THROUGH
NATURAL RESOURCE MANAGEMENT
Rayagada: Despite having cultivable land, the farmers from the 8 villages of the Rayagada district of Odisha suffered due to lack of required irrigation facilities. Ponds in the area too weren't suitable for agri or fish farming due to siltation. The on-going pandemic added to the woes of the tribal communities in the village that mostly comprised of unemployed youth.
Parivartan along with Prayatn Sanstha under its Natural Resource Management programme built suitable irrigation infrastructure in the project area to promote fish farming and agriculture by working on dilapidated ponds thus creating job opportunities through pond renovation and excavation work. The development of the ponds was done with careful execution and evaluation of the groups being put to work in the meetings held by the Village Development Committee (VDC).
The renovation of the ponds has led to 44 acre of agricultural lands being converted into double croplands. Apart from enabling agricultural growth, the intervention helped VDCs identify 100 youth forming 10 Fishery Interest Groups to promote fish farming and irrigation from the renovated ponds. This has built confidence of the villagers by providing them a sustainable source of income. The villagers have been using the pond water for their daily requirement as well.
HDFC Bank adopted five areas under #Parivartan for holistic social work:
Rural Development

Promote Education

Skill Training and Livelihood Enhancement

Healthcare & Hygiene

Financial Literacy and Inclusion
The Sustainability element in the Integrated Annual Report outlines the work undertaken by the Bank by engaging with the communities to work on reducing poverty, achieving zero hunger, providing clean water & sanitation, quality education, and creating sustainable cities and communities to name a few.
About HDFC BANK
For information please log on to: www.hdfcbank.com
For media queries please contact:
Sanjay Ojha
Corporate Communications
HDFC Bank Ltd., Mumbai.
Tel: 91-22-66521307(D)/66521000(B)
Mobile: +91 98335314249