#Parivartan reached 3.79 lakh more people compared to last year

Chandigarh, 17th August, 2021: HDFC Bank #Parivartan — its umbrella programme for social initiatives — impacted lives of over 24.97 lakh people in Haryana in 2020-21. The bank reached out to 84 villages across 8 districts- Nuh, Rewari, Mahendragarh, Yamuna Nagar, Kurukshetra, Panipat, Ambala and Sirsa. #Parivartan aims at mainstreaming economically & socially-challenged groups across the country by ushering growth, development and empowerment. HDFC Bank spent ₹634.91 crore through #Parivartan nationally and emerged as one of India's largest CSR spender in 2020-21. This was 18.5% more than previous year.
Parivartan highlights in Haryana: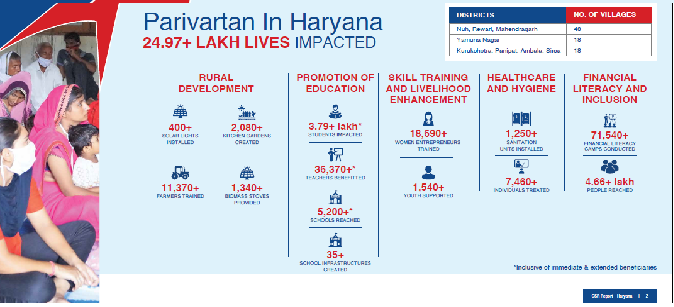 "Committed to developing sustainable ecosystems through various partnerships, we identify & support programmes that seek to develop & advance communities" said Mr. Vineet Arora Branch Banking Head, HDFC Bank. "The teams between the bank, CSR department and NGO partners work closely to identify areas, locations and people to work with. This helps us in addressing the most pressing issue to work upon. Although our programmes are holistic in nature, initiatives that delivered the maximum benefit in the state were training more than 36,370 teachers thus benefitting over 3.79 lakh students and conducting over 71,540 financial literacy & inclusion camps that benefited over 4.66 lakh people".
GRASSROOT STORY OF PARIVARTAN
HARNESSING SOLAR POWER FOR IMPROVED FARMING
Khilanwala Village: Madan Lal is a small scale farmer owning 7 acres of land in Khilanwala Village, Haryana, who encountered crippling problems with irrigation facilities owing to lack of dependable water facilities in his village. This caused reduction in his profits from farming as he had to resort to using water generator to pump water for irrigation which added to his cost of production substantially. He was in dire need of cheaper and sustainable alternatives for irrigation to increase his profit.
HDFC Bank Parivartan, along with Centre for Advanced Research and Development, installed a solar irrigation pump with 7.5 HP motor in Madan Lal's field. This system utilised solar power to generate electricity which drives the water pump and reduced the electricity cost in the long haul.
Today Madan Lal is able to irrigate his fields using the solar power irrigation system at a reduced cost compared to the electricity driven system used earlier. His income has soared as he is also generating secondary earning by providing water to other farmers. Madal Lal's success has motivated other farmers to adopt this technology. Today the entire community stands to benefit and so does the environment.
HDFC Bank adopted five areas under #Parivartan for holistic social work:
Rural Development

Promote Education

Skill Training and Livelihood Enhancement

Healthcare & Hygiene

Financial Literacy and Inclusion
The Sustainability element in the Integrated Annual Report outlines the work undertaken by the Bank by engaging with the communities to work on reducing poverty, achieving zero hunger, providing clean water & sanitation, quality education, and creating sustainable cities and communities to name a few.
About HDFC BANK
For information please log on to: www.hdfcbank.com
Sanjay Ojha
Corporate Communications
HDFC Bank Ltd., Mumbai.
Tel: 91 - 22 - 66521307 (D)
Mobile: 09835314249